the legend of sleepy hollow
The story of lovely Katrina Van Tassel and the two men who loved her, 
or at least what she stood to inherit.
Icabod Crane pictures himself future master of the well-run Van Tassel estate.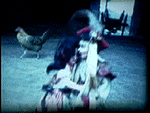 Obstacle #1, handsome Bram Bones - Icabod cuts in, crushing Katrina with his ardor.
 But something's rotten in Sleepy Hollow...
Confident a union is forthcoming, Icabod takes the spooky cemetary shortcut home.
The spirits converge, a headless horseman appears, and Icabod is never seen again.
Only a few know for sure what really happened that dark night.
I love to make super 8 movies with my friends, kindof like souvenirs of places I have been. This version of The Legend of Sleepy Hollow was shot entirely on location in Tarrytown, New York, the home of author Washington Irving. Locations include: the Van Cortland Estate, Old Dutch Church and cemetary and the Sleepy Hollow Diner.
This is the first roll for Woody since Toy Story. "I've wanted to do a period piece for as long as I can remember, and that is not very long." - Woody
Crew members: Deirdre Day Macleod and her 4 year old daughter, Sinead.
Dolls courtesy of Sinead & Beck.
Filmmaker's note: Shooting a period piece at one of these hokey historical mansions really saves bucks. Just try to stay low-profile!
status: currently in post-production; delays due to Woody demanding final cut
---